RAZISKAVE z IVERMEKTINOM
Spodaj podajamo le enega od člankov o raziskavi o Ivermektinu, njegovemu učinku proti raku in Covidu-19, ki je objavljen na spletu. Člankov ter raziskav je do sedaj na spletu objavljenih več kot 120 :
Pharmacological Research about Ivermectin
(January 2021)
Authors: Minguang Tang, Xiadong Hu, Yi Wang, Xin Yao, Wei Zeng, Chenying Yu, Fuying Cheng, Jianguan Li, Qing Fang
Publisher: Elevier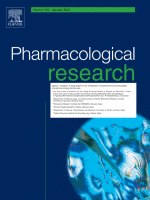 Highlights
-Ivermectin effectively suppresses the proliferation and metastasis of cancer cells and promotes cancer cell death at doses that are nontoxic to normal cells.
-Ivermectin shows excellent efficacy against conventional chemotherapy drug-resistant cancer cells and reverses multidrug resistance.
-Ivermectin combined with other chemotherapy drugs or targeted drugs has powerful effects on cancer.
-The structure of crosstalk centered on PAK1 kinase reveals the mechanism by which ivermectin regulates multiple signaling pathways.
-Ivermectin has been used to treat parasitic diseases in humans for many years and can quickly enter clinical trials for the treatment of tumors.
Abstract
Ivermectin is a macrolide antiparasitic drug with a 16-membered ring that is widely used for the treatment of many parasitic diseases such as river blindness, elephantiasis and scabies. Satoshi ōmura and William C. Campbell won the 2015 Nobel Prize in Physiology or Medicine for the discovery of the excellent efficacy of ivermectin against parasitic diseases. Recently, ivermectin has been reported to inhibit the proliferation of several tumor cells by regulating multiple signaling pathways. This suggests that ivermectin may be an anticancer drug with great potential. Here, we reviewed the related mechanisms by which ivermectin inhibited the development of different cancers and promoted programmed cell death and discussed the prospects for the clinical application of ivermectin as an anticancer drug for neoplasm therapy.
Graphical abstract

Ivermectin has powerful antitumor effects, including the inhibition of proliferation, metastasis, and angiogenic activity, in a variety of cancer cells. This may be related to the regulation of multiple signaling pathways by ivermectin through PAK1 kinase. On the other hand, ivermectin promotes programmed cancer cell death, including apoptosis, autophagy and pyroptosis. Ivermectin induces apoptosis and autophagy is mutually regulated. Interestingly, ivermectin can also inhibit tumor stem cells and reverse multidrug resistance and exerts the optimal effect when used in combination with other chemotherapy drugs.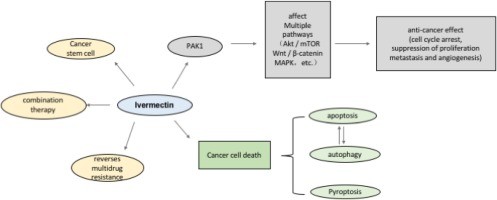 Abbreviations
ASCApoptosis-associated speck-like protein containing a CARDALCARacetyl-L-carnitineCSCsCancer stem cellsDAMPDamage-associated molecular patternEGFREpidermal growth factor receptorEBVEpstein-Barr virusEMTEpithelial mesenchymal-transitionGABAGamma-aminobutyric acidGSDMDGasdermin DHBVHepatitis B virusHCVHepatitis C virusHER2Human epidermal growth factor receptor 2HMGB1High mobility group box-1 proteinHSP27Heat shock protein 27LD50median lethal doseLDHLactate dehydrogenaseIVMIvermectinMDRMultidrug resistanceNACN-acetyl-L-cysteineOCT-4Octamer-binding protein 4PAK1P-21-activated kinases 1PAMPPathogen-associated molecular patternPARPpoly (ADP- ribose) polymeraseP-gpP-glycoproteinPRRpattern recognition receptorROSReactive oxygen speciesSTAT3Signal transducer and activator of transcription 3SIDSIN3-interaction domainsiRNAsmall interfering RNASOX-2SRY-box 2TNBCTriple-negative breast cancerYAP1Yes-associated protein 1
Chemical compounds reviewed in this article
ivermectin(PubChem CID:6321424)avermectin(PubChem CID:6434889)selamectin(PubChem CID:9578507)doramectin(PubChem CID:9832750)moxidectin(PubChem CID:9832912)

Keywords
ivermectincancerdrug repositioning
Ivermektin, lek proizveden od lekova za lečenje parazita, moguće leči i kancer
Izdvajamo:
Ivermektin efikasno suzbija proliferaciju i metastaziranje ćelija raka i podstiče njihovo uništavanje, u dozama koje nisu toksične za zdrave ćelije.
Ivermektin pokazuje izvrsnu efikasnost u borbi protiv konvencionalnih ćelija raka otpornih na hemoterapiju i smanjuje otpornost raka na više različitih lekova.
Ivermektin u kombinaciji s drugim lekovima za hemoterapiju ili ciljanim lekovima moćno utiče na rak.
Struktura neželjenog prenosa signala između komunikacijskih kanala usredsređena na PAK1 kinazu, otkriva mehanizam kojim ivermektin reguliše više signalnih puteva.
Ivermektin se već dugi niz godina koristi za lečenje parazitskih bolesti kod ljudi, a ubrzo može ući i u klinička ispitivanja za lečenje tumora.
Sažetak:
Ivermektin je makrolidni, antiparazitski lek sa 16-članim prstenom koji se veoma često koristi za lečenje raznih parazitskih bolesti kao što su rečno slepilo, elefantijaza i šuga. Satoshi ōmura i William C. Campbell su 2015. osvojili Nobelovu nagradu za fiziologiju i/ili medicinu za otkrivanje visoke efikasnosti ivermektina u borbi protiv parazitskih bolesti. Nedavno je zabeleženo da ivermektin inhibiše proliferaciju nekoliko vrsta tumorskih ćelija tako što reguliše više signalnih puteva. To ide u prilog tome da ivermektin može biti lek protiv raka s velikim potencijalom. Ovde smo se osvrnuli na srodne mehanizme pomoću kojih ivermektin inhibiše razvoj različitih vrsta karcinoma i izaziva uništenje određenih ćelija i razmotrili mogućnost kliničke primene ivermektina kao leka protiv raka za terapiju neoplazme.
Grafički sažetak:
Ivermektin ima snažne antitumorske efekte kao što su i inhibicija proliferacije, metastaziranje i angiogeno delovanje kod raznih ćelija raka. To se može povezati s regulisanjem višestrukih signalnih putova ivermektinom kroz PAK1 kinazu. S druge strane, ivermektin podstiče programiranu smrt ćelija raka, uključujući i apoptozu, autofagiju i piroptozu. Ivermektin izaziva apoptozu i autofagiju koje se međusobno regulišu. Interesantno je i to da ivermektin može isto tako inhibisati matične ćelije tumora, promeniti njihovu rezistenciju na više vrsta lekova i postići optimalni učinak kada se koristi u kombinaciji s drugim lekovima za hemoterapiju.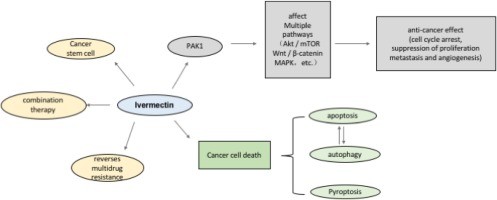 Skraćenice:
ASC-protein nalik mrljama(povezan s apoptozom) koji sadrži CARD
ALCAR- acetil-L-karnitin
CSCs-matične ćelije raka
DAMP- Molekularni uzorak povezan s oštećenjem
EGFR- receptor epidermalnog faktora rasta
EBV-Epstein-Barr virus
EMT- Epitelno mezenhimalna tranzicija
GABA-Gamma-aminobutyric kiselina
GSDMD-Gasdermin D
HBV-Hepatitis B virus
HCV-Hepatitis C virus
HER2-Human epidermal faktor rasta receptor 2
HMGB1-High mobility group box-1 protein
HSP27- Proteini toplotnog šoka 27
LD50-srednja letalna doza
LDH- Laktat dehidrogenaza
IVM-Ivermektin
MDR- Otpornost na više lekova
NAC- N-acetil-L-cistein
OCT-4- Proteini koji vežu oktamer 4
PAK1-P-21- aktivirane kinaze 1
PAMP- Molekularni uzorak povezan s patogenima
PARP-pol (ADP- riboza) polimeraza
P-gp-P-glikoprotein
PRR- receptor za prepoznavanje uzorka
ROS- Reaktivne vrste kiseonika
STAT3- Pretvarač signala i aktivator transkripcije 3
SID-SIN3- domen interakcije
siRNA- mala interferirajuća RNK
SOX-2-SRY-box 2
TNBC- Trostruko negativni rak dojke
YAP1-Yes-associated protein 1
Hemijska jedinjenja pomenuta u ovom članku:
ivermektin (PubChem CID: 6321424), avermektin (PubChem CID: 6434889), selamektin (PubChem CID: 9578507), doramektin (PubChem CID: 9832750), moksidektin (PubChem CID: 9832912).
Ključne reči:
Ivermektin, karcinom, repozicioniranje lekova.